Discover more from Divine Innovation
A dive into the spiritual world of technology and those who shape it
[4.0] on railroads, dams, and pipelines
technologies of 'progress,' Utah statehood, and Indigenous resistance
Divine Innovation covers the spiritual world of technology and those who shape it. It's published once every three weeks, and is written by Adam Willems.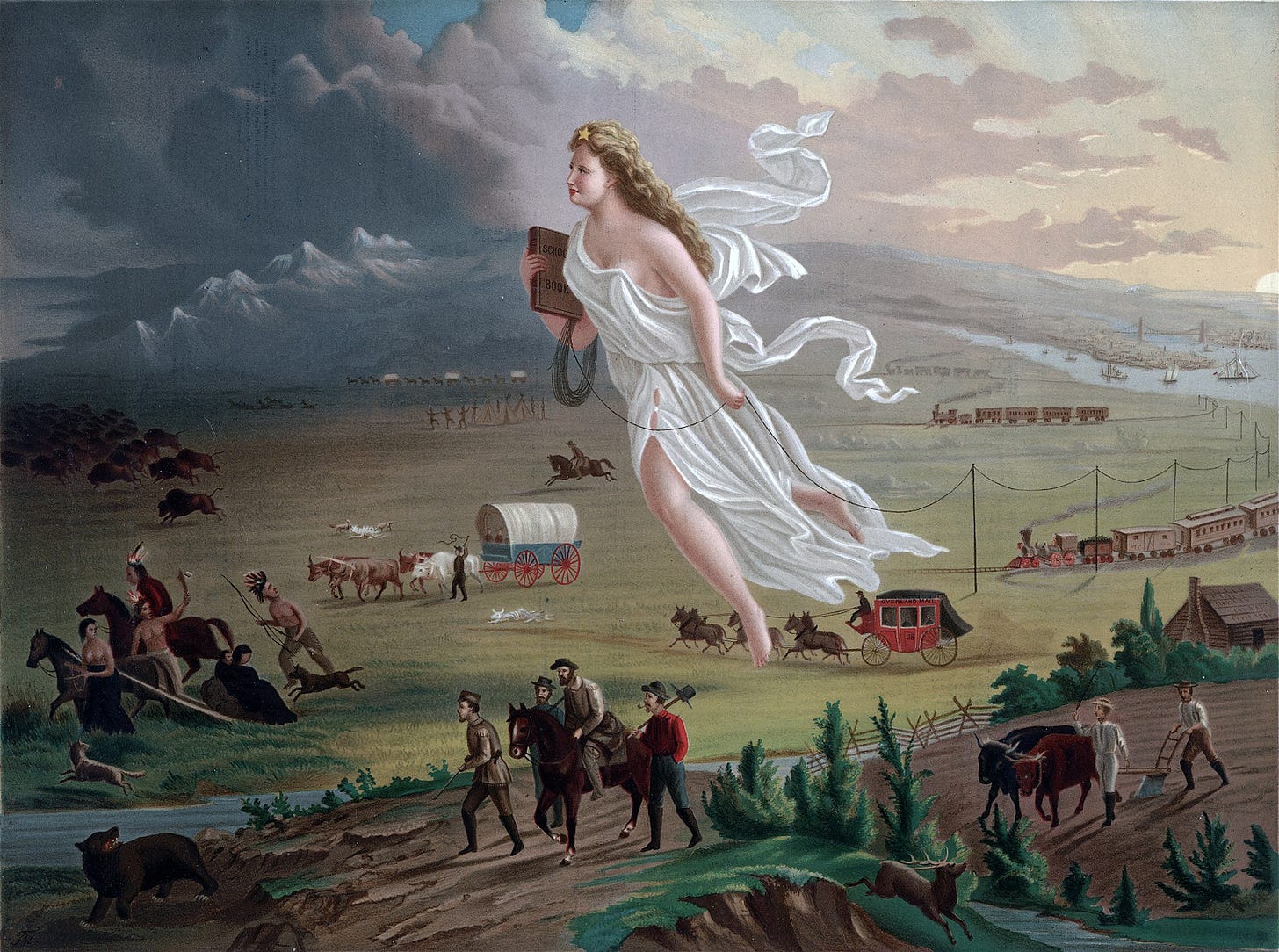 It's very possible that you've seen this painting before in a history textbook. It certainly has a j̶e̶ ̶n̶e̶ ̶s̶a̶i̶s̶ ̶q̶u̶o̶i̶ literal and basic element to it.
American Progress, painted in 1872 by John Gast, is riddled with glaringly obvious symbolism. Both its title and content make clear its purview: the dawn and chronology of 'American progress' on the frontier through white settlers and their technology, and (at the least) the banishment of Indigenous people and buffalo to the dark exteriors. American Progress's transparency gives educators a break—one of the few instances where a picture has the worth of a thousand words just right there for the taking. [For goodness' sake, the school book in the hand of Columbia, the womanly personification of the United States, has the words "School Book" scrawled on it.] The whole piece feels like a nineteenth-century precursor to Andrew Cuomo's COVID-19 propaganda posters, just with more railroad imagery and overt racism.
But what's less obvious is how American Progress gained currency as a meme of American 'frontier' politics in the late 19th century. It was made popular by the railroad industry. The history of this image and its commercial utility proves that the life force often ascribed to technology—the idea that the train is an 'iron horse,' for example—can be mediated through marketing techniques and tools. Choo, choo, indeed.
American Progress found a popular home in a widely-circulated railway guidebook with an equally didactic name as Gast's painting. Ahem:
Crofutt's Trans-Continental Tourist's Guide: containing a full and authentic description of over five hundred cities, towns, villages, stations,… scenery, watering places, summer resorts;… to tell you what is worth seeing—where to see it—where to go—how to go—and whom to stop with while passing over the Union Pacific Railroad Central Pacific Railroad…from the Atlantic to the Pacific Ocean.
"In 1871 the 'transcontinental' companies circulated thousands of copies of this guide in Europe as advertisements for their lines," writes David Walker, author of Railroading Religion: Mormons, Tourists, and the Corporate Spirit of the West. "Known also for making famous and rendering ubiquitous John Gast's oil painting American Progress, which Crofutt offered cheaply to readers in chromolithographic form, Crofutt's was a wide-reaching and very influential publication."
Walker, Assistant Professor of Religious Studies at the University of California, Santa Barbara, makes a significant (and entertaining!) contribution by historicizing the interplay between emergent technologies and religious groups in his recent book. It charts the arrival of the railroad in Utah in the 1860s, a technology that, to Protestants who wanted a 'Gentile' state, spelled doom for The Church of Jesus Christ of Latter-day Saints under the leadership of Brigham Young. [Side note: here's a plain, vanilla, short summary of LDS Church history.]
Few embody the fervor and shortsightedness of this prophecy about the LDS Church's fate in the face of the railways—Walker calls this the "death knell thesis"—than J. H. Beadle. An ardent opponent to Young's religious beliefs and community, Beadle established the town of Corrine. He hoped it would become the transfer point for the Union Pacific and Central Pacific Railroad lines, and, crucially, be a Protestant stronghold. [For context, one railway line started on the West Coast, the other in the Midwest, and had to transfer passengers somewhere in Utah, hence the famous image below once the rail lines joined together.]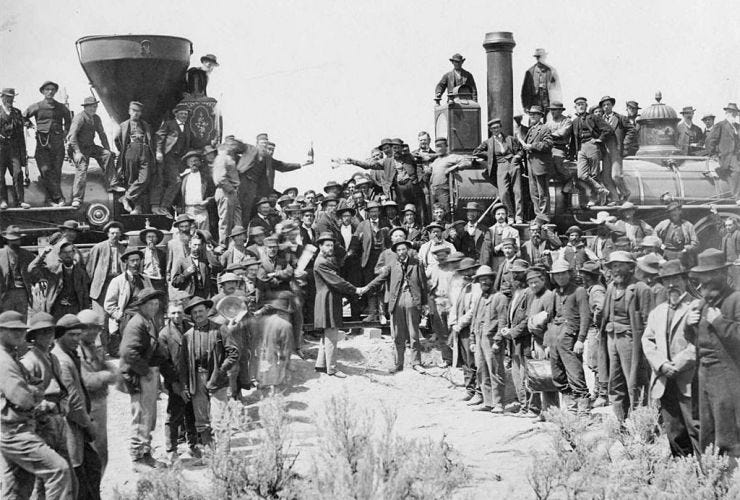 "Beadle saw in Mormonism a blight on the countryside and the resurgence of forms antithetical to the Republic: autocracy, theocracy, polygamy, and barbarism," explains Walker.
Corinne was the answer to the Mormon question, [Beadle] said, and it was the rightful fruition of previous anti-Mormon efforts and white colonization projects in Northern Utah. By consolidating 'Gentile power… in the northern counties, along the railroad,' Corinne's inhabitants would 'eventually liberalize that section of Mormonism,' drawing residents away from Brigham Young's stronghold and into the open arms of liberal capitalism, nationalism, monogamy, and true Christianity.
Beadle's vision was supported and reiterated by scores of congressmen; they wanted to see the LDS Church wiped off the face of the earth. In their eyes, polygamous practices made the Church nothing less than 'Mohammedanism': a foreign and uncivilized practice that had no place in a secular (i.e. Protestant) United States.
But their vision of #Trains4Gentiles turned out to be nothing more than a wishful hallucination. Brigham Young and his followers welcomed the arrival of the railroads, and capitalized on the opportunities that this new technology offered for the longevity and popularity of their religious beliefs and community. Young was reported to say that "a religion which could not stand a railroad… must, indeed, be a… poor religion."
Young courted the Union Pacific Railway Company, and offered them land and favorable labor contracts. In (some degree of) exchange, the company then built its transfer station in the LDS community of Ogden, with a Church-built and -owned rail spur jutting southward to Salt Lake City.
Railroad companies proved an invaluable ally to the LDS Church in Washington DC. They lobbied on the community's behalf to avoid the invasion of Utah territory by the federal government (a conflict that would certainly affect the security and profitability of rail travel; corporations are inherently altruistic, duh). The lobbyists secured Republican National Convention support for the LDS Church by offering its politicians favorable subcontracts and stocks in railway companies. And they bribed the opinion desks of influential Associated Press news outlets "as high as ten thousand dollars… promising additional monies if their opinion-swaying efforts yielded admission to the Union." These definitely aren't practices that exist today in our golden age of unbiased media and politics, no way.
The railways were a key broker for Utah statehood on both sides of the dialogue; Leland Stanford of the Central Pacific Railroad, for instance, convinced key LDS leaders to eschew polygamous practices in exchange for statehood, which granted full political recognition and representation for white settlers.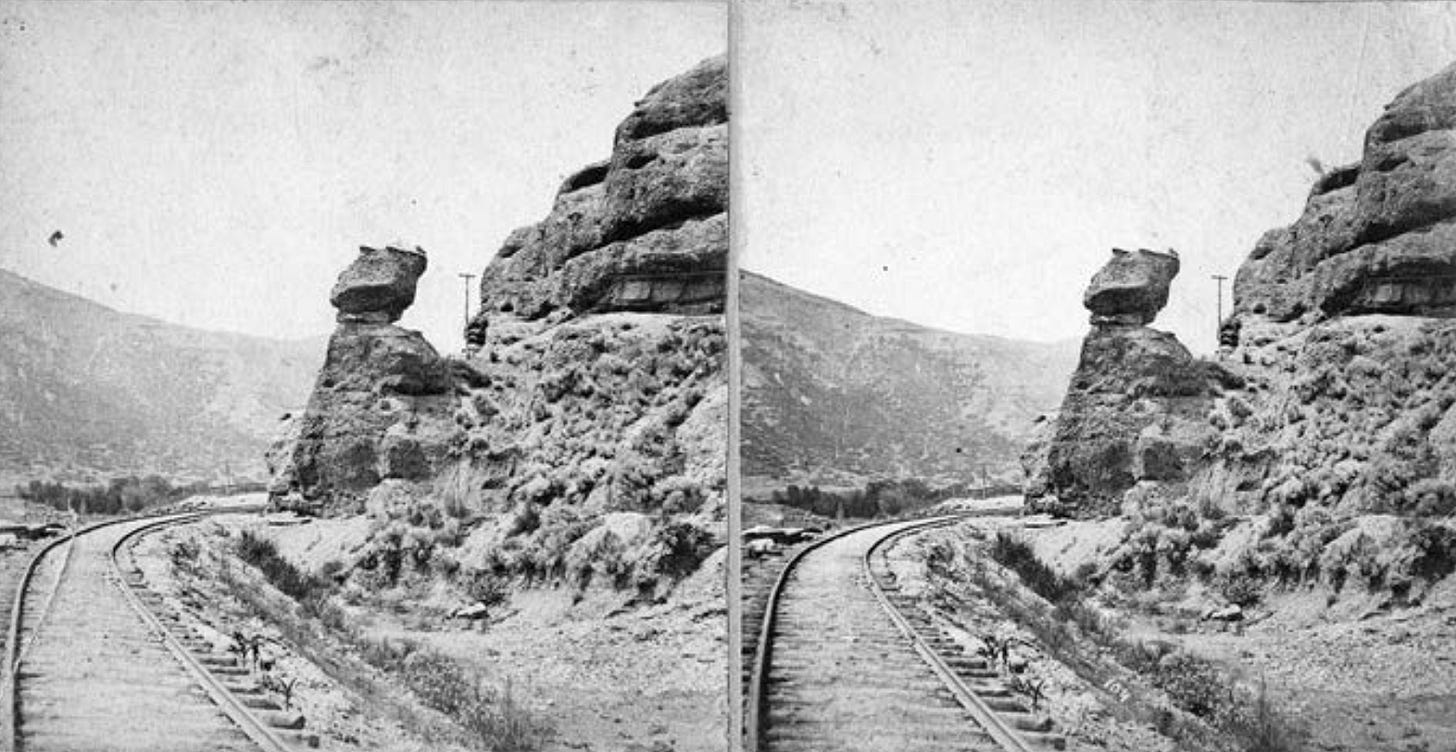 Central to the railroads' marketing strategy was the act of religion-making. They made a pilgrimage-site-on-rails of 'Pulpit Rock,' pictured above, which Union Pacific claimed was the location of Brigham Young's first sermon in Utah. There does not seem to be any evidence to prove this claim. But it became a notable site along the line for tourists. For many visitors, it was their first taste of the wholly different 'Mormon' world that they had imagined through railroad marketing as well as their own visions; they would see LDS communities in real life at the transfer point in Ogden, and in Salt Lake City if they decided to make a longer trip.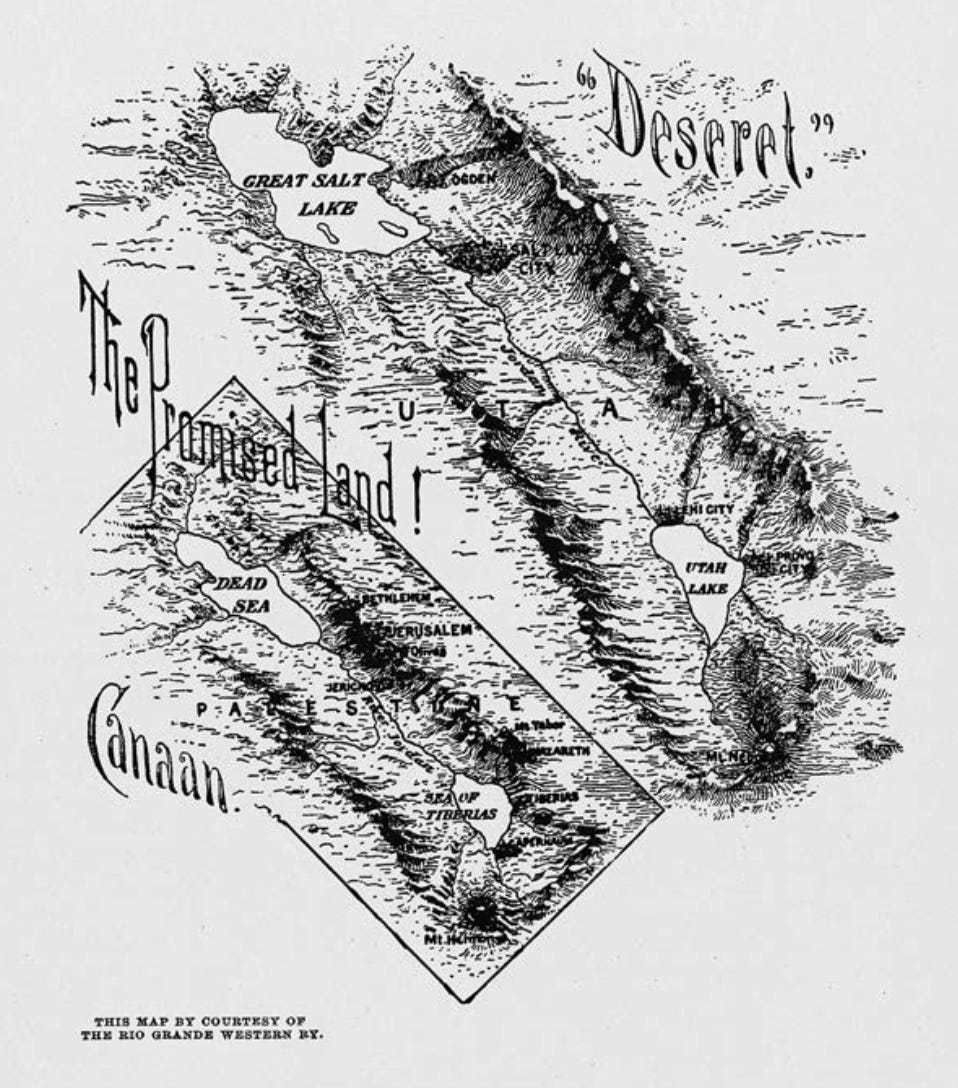 The Rio Grande Western Railway, meanwhile, argued that Utah (or Deseret) was the Palestine of the United States, a holy land similar to its eastern counterpart in both topography and merit. With graphics like the one above, LDS communities became more familiar to visitors as a legible (and therefore legitimate) religion.
Clearly, the railroad companies did more than just circulate nationalistic imagery like American Progress. They dissuaded passing judgment on the LDS Church in their texts, encouraging transcontinental tourists to see Utah for themselves. Railroad marketing straddled a fine line between similarity and alterity; Utah was a different world worth exploration, but it was not so transgressive or enigmatic that it merited being overlooked or condemned. The railroad industry's religion-making generated a material impetus for visitors' encounters with LDS settlers.
Tourists, passing through this frontier-holy-land and walking through Salt Lake City and its environs, were invited to think for themselves: "whether or not these places were religious; whether or not they were crucial to Mormonism; whether or not Mormonism was crucial to Utah; and whether or not Utah was crucial to the Union." The end result suggests that, more or less, the battle for public acceptance was won.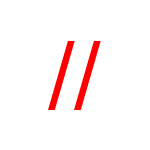 The history of the railroad's arrival in Utah proves that pundits in DC and their allies can predict a technology's effect on society and be totally wrong. In many contexts, religious groups ostensibly threatened by a technology can organize and use that tool to their advantage. Infrastructural technologies can do much more than carry people or goods, but also change perceptions and the nature of political and interreligious relations.
But ending on that note would be a harmful oversight. We can't linger our gaze on just one hemisphere of the American Progress panorama. For one, the history of the transcontinental railroads is a history of Chinese immigration and exploitation. According to Gordon H. Chang, Professor of History at Stanford University (founded by Leland Stanford, the president of the Central Pacific Railroad), Chinese immigrants made up 90% of the Central Pacific Railroad's workforce, but were paid 30 to 50% less than their white counterparts; at least 1,200 Chinese workers died building the railroad from California to Utah. The same textbooks that circulate American Progress rarely mention these facts. But Railroading Religion speaks more directly to the fact that the LDS Church's success in harnessing the power of rail came at the intentional expense of the Indigenous nations that had lived in 'Utah' for countless generations preceding them.
Just one example—one both informative and more removed from the everyday, actual violence of settler colonialism—is the organization of the Deseret Museum, designed by Brigham Young's son, John W. Young. The Museum was staged as a tourist attraction to subtly convince visitors of the rightful place of LDS settlers in the United States. As compared to the modern technologies used by settlers, adjacent 'artifacts' of Indigenous life contributed to the idea that Indigenous people were of a 'bygone era' who would disappear in the face of modernity.
Despite extensive efforts supported by the LDS Church to proselytize local citizens of the Shoshoni nation, Walker explains that the museum did not want to play into "popular concerns about Mormon-Indian racial combination and mutual corruption" by portraying Indigenous life as anything but past-tense and disappearing. A missionary had claimed to have baptized one hundred Shoshoni people into the LDS Church in 1873, alarming federal officials, who then forcefully moved the Northwestern Shoshonis to the Fort Hall reservation. Church leaders, at the least, probably thought of their missionary activities as a moral good—but they had their own death knell thesis, and used it on others for their own public image.
LDS settlers also 'mastered' the land through irrigation projects that made the desert blossom as a rose, fulfilling Biblical prophecy. Their efforts were "proof that Mormons were 'the beginners of American Irrigation,'" writes Walker. It made irrigation a righteous practice in lockstep with Manifest Destiny—the nineteenth-century idea that it was the United States' assured fate and duty to shape North America in its image; a concept borrowed heavily from the fifteenth-century Doctrine of Discovery, which 'restricted' the colonizing efforts of European countries to non-Christian territories. Manifest Destiny, as well as its dependence on technologies to 'civilize' those in its sights, is still alive today.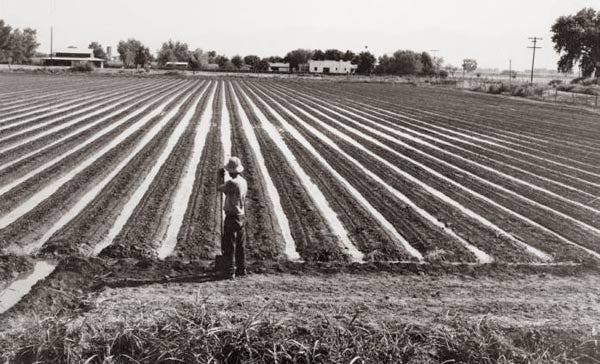 Our History is the Future: Standing Rock versus the Dakota Access Pipeline, and the Long Tradition of Indigenous Resistance speaks directly to inextricable ties between settler technologies and Manifest Destiny. Nick Estes, a citizen of the Lower Brule Sioux Tribe and an Assistant Professor of American Studies at the University of New Mexico, highlights the US' consistent violation of international treaties between the federal government and Indigenous nations—in particular the 1868 Fort Laramie Treaty, which agreed to the demarcation of an expansive Indigenous territory. Most of this land was subsequently stolen, the US Supreme Court admits. The infrastructural technologies of settlers—like irrigation systems, railroads, and pipelines—are tools with which Indigenous nations (and the people living on them) are removed, concentrated, flooded, polluted, or altogether eliminated.
The railroad industry, which played so crucial a role in warming relations between the LDS Church and the federal government, was also central to the invasion and flooding of sovereign indigenous territory. Estes writes:
Pushed by the railroad lobby to spur settlement and therefore the need for railroads to transport agricultural goods, the 1877 Desert Land Act amended the Homestead Act and provided federal money for western irrigation projects. The Northern Pacific Railway, for example, also opened colonization offices in Germany, Sweden, Denmark, Norway, and England to entice European immigrants to settle the Northern Plains and, therefore, to create a demand for railroad transportation.
Though neither Walker nor Estes discusses it as such, it seems plausible that railroad companies' circulation of American Progress in Europe boosted not just tourism, but also settlement. Either way, the railways were central to other well-known points along the history of white conquest. US General George Custer was stationed to defend the construction of the Northern Pacific Railroad through the territory of the Oceti Sakowin (or the Sioux). Custer's positioning along the railways led to the criminalization and often assassination of Indigenous people who were outside of a designated reservation.
The Battle of Greasy Grass—known often by settlers as 'Custer's Last Stand'—took place on June 25, 1876, and was an effort to eliminate Indigenous people who were not on a reservation. It was meant to be a surprise attack, but Custer and his group of 650 men were confronted by thousands of Lakotas, Cheyennes, and Arapahos, forcing them to retreat, and many were killed in this process.
The defeat of Custer's Seventh [Cavalry] and the killing of 268 of his men was a major victory. But… about four dozen Indigenous warriors were killed during the fight… Each victory against the invaders also resulted in immeasurable casualties in later battles, and armed resistance was a calculated risk that was not undertaken carelessly. Either way, the Oceti Sakowin was in constant mourning over the theft of their lives, their world, and so many countless relatives—ancestors both present and future. Armed Indigenous resistance has always been a future-oriented and life-oriented project, and it is because of this fearless struggle that we survived and that we can remember.
The colonial mission to turn ancestral Indigenous lands into territory for white use was a multi-pronged endeavor. Military force supported vocal and active private business interests; the violation of international treaties between the United States and sovereign Indigenous nations was not just an act of war, but a question of colonial enterprise. Indigenous people were placed onto reservations, and could only gain US citizenship (well into the 20th century) if they converted their common land into private property for individual gain and Indigenous territorial loss.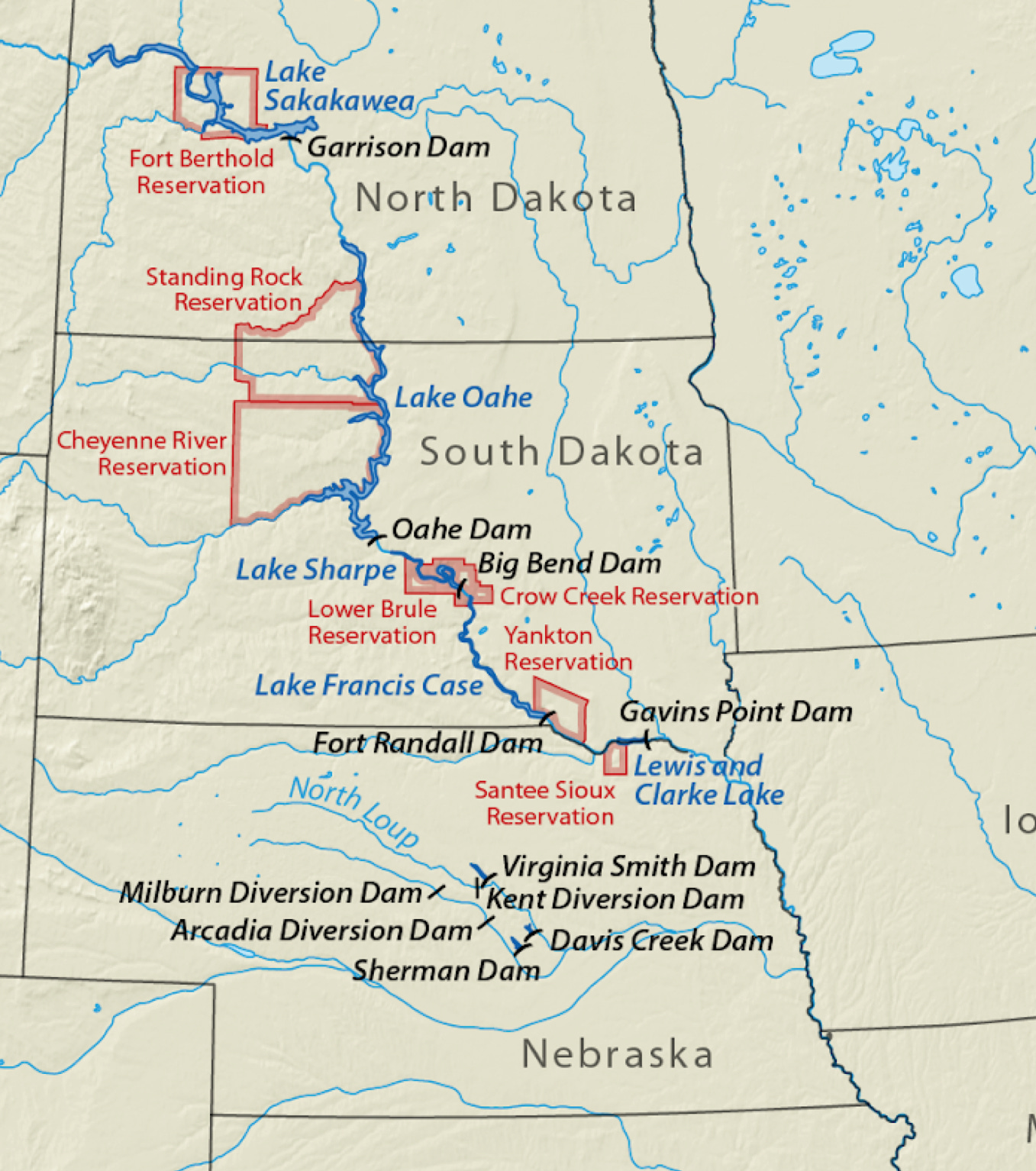 Few technologies took as substantial a toll on Indigenous land as the dams of the Pick-Sloan Plan—a mid-century public works project endeavoring to meet the irrigation needs of white farmers in the Missouri River basin. These dams flooded the riverside land of several Indigenous nations, earning the Pick-Sloan Plan the title "Destroyer of Nations." The land that Indigenous people lost was invaluable for cultural and religious reasons, and for material reasons too, as it was home to the most fecund soil for their own agricultural use and food supplies. The US government posited these projects as prophecy to minimize resistance. "To meet incessant demands for irrigation, the Pick-Sloan Plan was made to appear inevitable," writes Estes. "States' interests didn't lay solely in river development; they also proposed the total liquidation of Indigenous political authority through termination."
The Standing Rock Reservation—with support by other Indigenous nations and allies—mobilized against further destruction-through-'innovation' against the Dakota Access Pipeline beginning in 2016. The Pipeline was designed as a more efficient means of gas transport—rendering its existing transit via rail obsolete. DAPL was to be submerged through ancestral riverside land and was the alternate (ultimately approved) route through the area. The first one was seen as too environmentally risky for nearby white populations. Estes argues that DAPL is a direct descendant of other technologically-mediated forms of settler colonialism, though the Pipeline's strategies were often more sophisticated than those of its predecessors.
But still, it relied upon many of the same mechanisms of control to have its way, contending the inevitability of its death knell thesis. Even TigerSwan, a military contractor hired by DAPL, claimed the presence of a 'jihadist insurgency' at the Standing Rock camp because of the presence of Palestinians protesting in solidarity. It reincarnated many of the same fear tactics of 'Mohammedanism' that were used against Latter-Day Saints in Utah in the mid-nineteenth century, and local and federal law enforcement framed the protests as an 'educational' opportunity in suppressing uprisings—tactics of violence and intimidation openly being used in the streets of Portland and elsewhere.
"Countering settler colonialism's own physical infrastructure—trade routes, railroads, dams, and oil pipelines, is the infrastructure of Indigenous resistance, its ideas and practices of solidarity," Estes explains. "The resistance camps may have been temporary, but the struggle for Native liberation continues, and the fort is falling."
And as much as Manifest Destiny frames itself as self-fulfilling prophecy, Estes extends and repositions prophecy as a future-oriented practice grounded in the present, harmonizing with the ways that Alexander Chee and Salome Asega do; the solidarity and socialization central to the popular uprising against DAPL was a glimpse of the present that offers possibilities for where the future can go.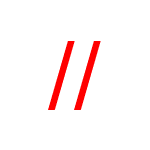 In the US, the history of novel technologies is inextricably tied to conversion and 'civilizing missions.' Many of the first books published in the colonies were written in Indigenous languages in an effort to convert Indigenous people to Christianity and 'save their souls.' The first Bible printed in North America was in Algonquin, and funded by the (informatively-named) Corporation for Promoting and Propagating the Gospel of Jesus Christ in New England. The ways that trains, dams and pipelines have been used are a direct extension of those practices and principles.
This legacy proves once again that we should be cynical of corporate missions that 'connect' people. We have to qualify what connection entails. Railroading Religion shows settler technology as a source of strength, with its railroad lobbyists actively mediating on behalf of the LDS Church. Our History is the Future reveals these same tools to be tendrils of the effort to eliminate Indigenous peoples. That these arguments differ due to racism and colonialism is clear—the project of turning land into territory existed and still exists in the name of Manifest Destiny.
But the traditions that Estes describes show what roles technologies can play in the context of larger social, material, and ecological relations—a spiritual world of technology within other worlds. This is an ethical and political project long in the making.
Our History Is the Future highlights concrete means through which technologies and economic imperatives can be less extractive and more meditative. For instance, the legal construction of corporations as people (as Mitt Romney loves to remind us) invites the same privileges for natural entities like water and land. "Water Protectors personify water and enact kinship to the water, the river, enforcing a legal order of their own," Estes affirms. "If the water, a relative, is not protected, then the river is not free, and neither are its people."
These traditions and kinships also make clear that planned obsolescence is more than an ecological harm which violates the treaties that should exist between technological and non-human entities, but a relational and spiritual one that harms human beings as well. And, of course, they prove that 'risk management' is a nebulous construct, one vulnerable to the whims of its calculator, compelling more rigorous mechanisms of consent and dissent before a technology—a railroad, a pipeline, a dam, a facial recognition system—is constructed, let alone imagined. It also calls for the abolition of existing economic, political, and technological practices of empire, which certainly adds (even more) weight to the call to abolish big data framed as a product of chattel slavery by Yeshimabeit Milner of Data for Black Lives.
"Indigenous resistance is not a one-time event. It continually asks: What proliferates in the absence of empire?" Estes raises. "Thus, it defines freedom not as the absence of settler colonialism, but as the amplified presence of Indigenous life and just relations with human and nonhuman relatives, and with the earth." At the least, this commitment rescues talk of the 'technological revolution' from the clutches of Steve Jobs-y buzzspeak.